Music
Friday: The Vintage Jazz Collective
Catering to Lindy Hoppers, the Vintage Jazz Collective brings to light rare collections of swing music straight from the jazz era. Each tour they perform hand-selected favorites from a different collection, and for 2019, their 7-piece big band will be featuring the music of John Kirby. Many of Kirby's arrangements embody the essence of chamber jazz, classical influence, and an architectural approach rivaling the very best bandleaders in the world. We are thrilled to have the opportunity to perform this music for you. 
Website: www.vintagejazzcollective.com
Saturday: Gordon Webster & His Band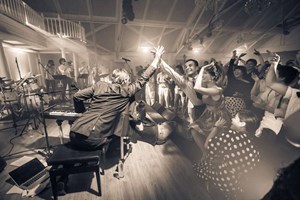 Pianist Gordon Webster is one of the most sought after musicians in the Lindy Hop world. His tremendous musicianship and passion, supported by his first-hand knowledge of social dancing, have inspired Lindy Hoppers at hundreds of dance events worldwide. Drawing on influences as diverse as Fats Waller, Count Basie, Oscar Peterson and Gene Harris, Webster serves up a smorgasbord of styles unified by one characteristic: irresistible danceability.
Website: www.gordonwebsterswings.com