Music
Friday & Saturday: Eyal Vilner Big Band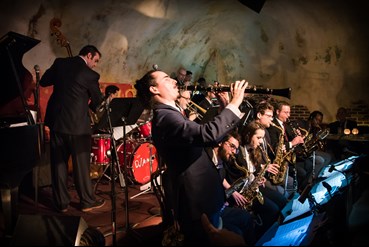 This year, we are welcoming the Eyal Vilner Big Band to Stompology! We're so excited to have the band in two forms for the event: a 6-piece band for Friday night and 13-piece big band for Saturday night! One band, two distinct sounds, one amazing weekend of live music.
ABOUT THE BAND
Eyal Vilner has become one of the leading new voices in the New York swing and big band scene. Born in Tel Aviv, saxophonist, clarinetist, flutist, composer and bandleader Eyal Vilner moved to New York in 2007 and started his big band the following year. 
The Eyal Vilner Big Band has been performing widely at some of New York's landmarks such as Jazz at Lincoln Center, Midsummer Night Swing, Birdland, Dizzy's Club, Smalls Jazz Club, Minton's Playhouse, The Django, Battle of the Big Bands on the Intrepid, Swing ReMix, Swing 46  and Central Park SummerStage.
The big band performs Eyal's new arrangements of jazz and swing tunes as well as his original compositions. Their music, which derives from the tradition of jazz, swing and the blues, strives to bring a unique voice to this beautiful art form. The big band's first four albums: Introducing the Eyal Vilner Big Band, Almost Sunrise, Hanukkah and Swing Out! received rave reviews and made it to the Top Jazz Radio Charts of the US and Canada.
​The Eyal Vilner Big Band has collaborated with some of the top jazz legends of our time including NEA Jazz Masters Frank Wess, Jimmy Heath and Jimmy Owens, and pianist Junior Mance. 
Website: www.eyalvilner.com