Instructors
Sharon Davis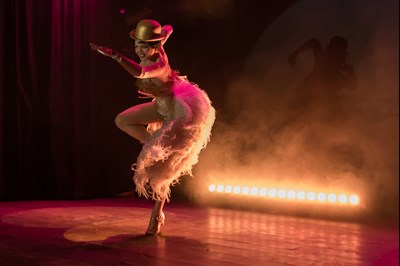 Sharon Davis is internationally known for her distinctive style in Lindy Hop, Charleston, Blues and Burlesque. Australian born and now based in London, Sharon has taught and
performed around the world. She holds 1st place titles at the International Lindy Hop Championships, Ultimate Lindy Hop Showdown, National Jitterbug Championships, Canadian Swing Championships, Burlesque Hall of Fame, World Burlesque Games and has claimed numerous other awards internationally. She is known for her dedication to the history of vernacular jazz dances and the music they evolved to. Her classes focus on pairing dynamic connection and flow, with body awareness and quality of movement as a pathway to individual style, creativity and musicality. With her bright and bubbly personality, Sharon's teaching style is energetic, inspiring and fun. She founded the European Swing Dance Championships, and runs a dance company in London called JazzMAD. Visit www.sharonmdavis.com to find out more about her.
Felipe Braga
Man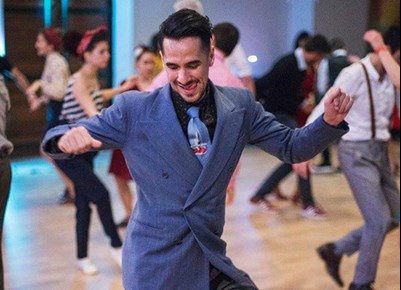 y ask how Felipe learned Lindy Hop so quickly: transitioning from a toilet-cleaning newbie dancer marveling at the Folkets Hus floor to a Herrang instructor in three short years. The explanation is simple: his pre-Lindy life prepared him for what was to come. Training in theatrical acting gave Felipe body awareness and control as well as an ability to improvise–both in his energetic and now infamous class warm-ups, and in the competitions where he always shines. Felipe's experience playing drums, as well as his youth in Brazil –where the music and dance culture are rich– gave him an innate sense of rhythm. And finally Felipe's days as a dancing party-animator for a live music club in Brazil gave him plenty of training for getting people excited about dancing in his classes today. It is hard to find someone who doesn't like Felipe. His warm personality charms every dancer he meets, and his ability to connect with people in conversation carries over onto the dance floor.
Andrew Nemr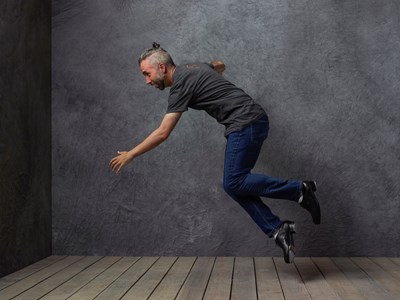 Mentored by Gregory Hines, Andrew Nemr is one of the most diverse tap dance artists today. An international performer, choreographer, educator and speaker, Andrew's work explores tap dance as a vehicle for storytelling and community building.
He has played with Grammy Award winning musicians across multiple genres, founded and directed the tap dance company Cats Paying Dues, co-founded the Tap Legacy™ Foundation, Inc. (along with Hines), and is currently the Artistic Director of the Vancouver Tap Dance Society. "A masterly tapper" (New York Times), Nemr's work has been recognized with a TED Fellowship, grants from the National Endowment for the Arts American Masterpieces: Dance Initiative and the CUNY Dance Initiative, a FloBert Award for Tap Dance Excellence, and residencies with Quarterly Arts Soiree at Webster Hall, BRICLab, More Art's Engaging Artists program, Surel's Place, and TED. Nemr is recorded on the Grammy nominated recording Itsbynne Reel by Dave Eggar, the DVD Documentary and companion album Tuesdays at Mona's by Mona's Hot Four, and narrates the DanceTime Publications DVD, Tap Dance History: From Vaudeville to Film. An avid public speaker, Nemr uses the story of his journey and the craft of tap dance to speak about identity, community, faith, and love.
Website: andrewnemr.com
Sara Deckard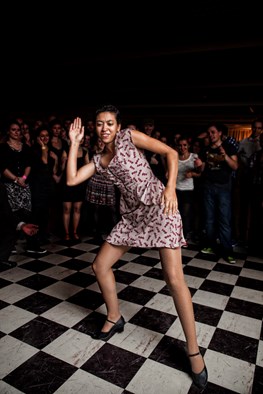 Sara Deckard, though never classically trained, has been dancing since her mother taught her how to "mash potatoes" as alittle girl. As much as she loves to show off, Sara is a true street dancer and is happiest on the social dance floor, or connecting with students in a relaxed workshop setting.
As a teacher, Sara is spirited and encouraging.  She emphasizes staying true to the spirit of Swing and creating authentic, organic movement while maintaining one's own creative voice and, of course, having as much fun as possible.  She strives to give her students the confidence to get out and let their spirit move, experiment with new steps and celebrate happy accidents.  Sara has taught at many workshops around the world, including the acclaimed Herrang Dance Camp in Sweden.  Sara is also an instructor for cmDance's school outreach program, which fosters the next generation of jazz babies in Denver, CO.
As a performer, Sara is inspired by the ladies of the Jazz Age, such as Josephine Baker and Mable Lee, but also by the go-go girls and shake dancers of the 60s and 70s.  She has performed in cabaret-style shows at various dance festivals in the United States and Europe, and was featured in the music video for Caravan Palace's song "Dramophone".
Website: saradeckard.com